Tour Schedule
Museum of Ventura County
2nd June, 2017 – August 6, 2017
Oklahoma City University – Nona Jean Hulsey Art Gallery
21st August – October 20175.30 pm, Friday 1st September – Artist's Reception and talk about the paintings
Stephen Smith Fine Art
Friday 3rd November – December 2017
Florida A&M University – Foster Tanner Fine Arts Gallery
January 8 – February 2018
Pensacola State College – Switzer Center Gallery
February – May 2018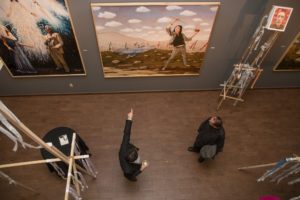 The Secret Paintings is a touring exhibit of figurative oil paintings by artist Michael Pearce. The paintings are imaginative scenes rendered in epic scale that draw viewers into their narratives and engage them in an immersive experience with allegorical symbolism which thoughtfully references contemporary topics including the environment, relationships, and ancestry.
Exhibit dates are available in the Southern States starting from mid-May 2018.
Make a reservation for your gallery –  contact us at 805 493 3316 or email Harold at email hidden; JavaScript is required
Minimal Costs
Although this is a nationwide touring exhibit, shipping costs are low. No crating is necessary – our custom-built show trailer can be hauled by a full-size pickup truck with a 7-pin hookup and 2 5/16″ ball. Please inquire for details. The venue must provide insurance for items while they are shipped to the exhibition space as well as for the duration of the exhibit.
The Secret Paintings present figurative representation and sentimental appeal together with symbolism and allusion as ingredients which combine into an emergent whole that is more profound than those component parts. They are seductive and meaningful and attract a large audience that admires them both for their technical merits and for the imaginative world created by the artist. The work challenges the audience with new ideas about emergence, metaphysics and contemporary traditions.
KCET says: "Massive, mythical and brimming with allegorical subtext, Michael Pearce's paintings demonstrate a subtle alchemy all their own — the transformation of ordinary oil paint and canvas into narratives that embrace the magic and romance of an earlier era."
The exhibit consists of 24 wall hanging paintings. The central "Chariot" installation consists of a freestanding arrangement of wall units which may be arranged to create a square room. Everything passes through a standard 80″ x 72″ double door. The Secret Paintings are oil paintings on canvas stretched over bars. None are greater than 10 feet in height or width, and all will fit through a standard  80″ x 72″ double door. The paintings are prepared for hanging using horizontal wooden cleats, which will be provided.
The wall-hanging paintings will need approximately 260 linear feet of space to hang all of the paintings with plenty of space between each of them. To learn more about these paintings and to see some pictures of them visit the interview page. The paintings include: The Words 48" x 120"; The Hanged Man 120" x 60"; The Magician 86" x 96"; Endless War (diptych) 108" x 132″; The Day 96" x 72"; The Traveler 96" x 66"; The Moon 58" x 38"; Angel of Death 96" x 96"; Empress 96" x 96"; Imperium 96" x 72"; Star 66" x 36"; Temperance 72" x 48"; Rock & Roll Death 72" x 48"; Justice 72" x 48"; I Think I Love You 42″ x 120″; Lady in Red 25 1/2″ x 37 1/2″; Self-portrait as an Imaginary Character in a Made-up Harry Potter Movie with a Soundtrack by Nick Cave 72″ x 48″; Tower 96″ x 48″; I Want the World and I Want it Now 48″ x 72″; Double Double, Toil and Trouble 64″ x 30″; Chariot (quadryptych) 62″ x 92 1/2″ each piece; Black Hole Soul 60″ x 48″.
The Secret Paintings gallery –
Artist's talks
Michael Pearce is a popular speaker, ready to speak on a variety of topics, including: The Secret Paintings; Kitsch and Emergence; Beauty; Allegorical Symbolism; The Representational Art Revival. To learn more about him visit the home page, where you will find a description of his book and links to interviews, articles and websites.
If you wish to make arrangements for artist talks, please contact Aihua Zhou at email hidden; JavaScript is required